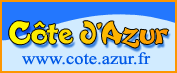 BIENVENUE AND WELCOME
TO THE COTE D'AZUR
"The resplendent names - Cannes , Nice , Monte Carlo - began to glow through their camouflage, whispering of old kings come here to dine or die, of rajahs tossing Buddha's eyes to English ballerinas, of Russian princes turning the weeks into Baltic twilights in the lost caviar days."
Rosemary Hoyt being driven along the Riviera
- taken from Tender is the Night by F. Scott Fitzgerald -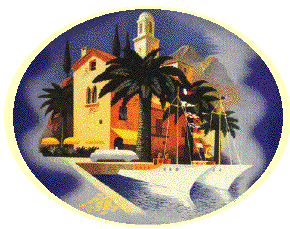 T he impression of the French Riviera as a place for beautiful people refuses to go away - as do the beautiful people. Though the term 'Côte d'Azur' was only coined comparatively recently in 1887 , the chic and rich of each generation have created their own images of this beautiful part of the world. Images which are known around the world and still resound in the towns, villages and beaches of this sunny 125-mile strip of partying ground sandwiched between the foothills of the Alps and the Mediterranean .
Some of us dream of the dolce vita days of Bardot and swinging, topless St-Tropez. While some 30 years before that the reminiscences were of F.Scott Fitzgerald's Antibes crowd .
Arab sheikhs may have replaced the Russian and English royalty, and sun and thrill seekers of all ages and classes roam the entire coast, but those with jets and serious money still touch down here each year.
The unique microclimate, the mountains and the sea, the quality of light and the diversity of plants and trees have also proved attractive - particularly to painters . Following in Van Gogh's brushstrokes, the Fauves centred in St-Tropez, Picasso settled in Antibes and Mougins, Matisse moved to Nice, Chagall chose Vence, and still today artists' colonies abound in this bright, warm place. The abundance of museums and galleries show that art is as much an integral part of the Riviera as sun, sea, garlic, olives and wine .

Created, composed, and constructed by Virtual Riviera 1995
---
Camping alpes de haute provence