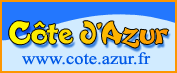 "And if the sun would always shine, there would I dwell." Anne Bradstreet
---
THE RIVIERA


A PARADISE FOR ARTISTS

Visiting Aygulf one day in 1887 Maupassant was surprised to find himself in a ready-made artists' colony. There were no houses,but the roads had been laid out with names such as Boulvevard Rubens and Boulevard van Dyke. "Why are all these painters names...?" he asked himself "...when there are no artists here at all? Strangely the local authority, with God-like decision, had said, "This is where the artists will settle."

But they didn't. They preferred Saint-Tropez (who can blame them), and many of their works can be seen today in the Annonciade Museum in Saint-Tropez. Toward the end of the 19th century many impressionist painters were attracted south to capture beside the Mediterranean the vibrations, the colours and the nuances of light which only exists in this part of the world. Bonnard, Renoir, Van Gogh, Gaugin, Boudin, Derain, Marquet, Signac, Guillaumin and, of course, C&egravezanne. These artists, together with hundreds of others, between the years 1875 to 1920 created a magnificent selection of paintings. Some of which nowadays are among the most expensive in the world, and they fetch millions at auctions in London and New York. Unfortunately some of the artists did not achieve the fame the deserved, while still others have fallen into obscurity.

Generally speaking the artists can be grouped into three categories: The "Naturalists", with the notable flare of the Toulon school - such as Vincent Courdouan, Paulin Bertrand, Gustave Gerauld, Eugëne Dauphin or Fr&egraved&egraveric Montenard - whose great canvas of the commencial port of Toulouse is the most famous. Among these naturalists there are also Ernest Buttera, Joseph Contini and F&egravelix Pille, who have concentrated on Cannes and its surroundings, also the lesser-known such as Allègre, Moutte, Roux-Renard or Guigou.

Then come the "Fauves de Provence" who, before the official birth of "fauvism" at their Paris Exhibition of 1905, began the movement with daring, lively palettes. The paintings of Ren&egrave Seyssard, Charles Camion, Louis-Mathieu, Verdilhan, Pierre Girieud or Alfred Lombard demonstrate how they were the forerunners of "fauvism".
The third group is reserved for the glories of the Impressionists who frequented the coast, or- like Renoir - died here.


---

Created, composed, and constructed by Virtual Riviera 1995
---