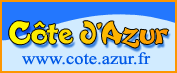 Sophia Antipolis .
Europes Silicon Valley?
Maybe not quite as big (yet) as its American counterpart, the ever expanding Sophia Antipolis is still home to many of the household names of the computer, communication & technology world. Although only twenty two years old the rate of expansion has been phenomenal. The ultra modern, purpose built buildings of Sophia now house over 1,000 companies & corporations & provide employment for over 16,000 people. The aims of Sophia Antipolis are the same as they were in 1974, to become and remain the centre in Europe for high tech business activity. With a French Riviera location and various government assistance schemes, Sophia has more than exceeded its original expectations, with the current site expected to be full in six or seven years.
Plans are already in place for a furthur expansion of some 5,500 acres to accommodate growth for the next 20 years.

Sophia Antipolis & Education.
Due to the various activities of Sophia, it's no surprise that it's become something of an educational centre with over 2000 students studying full time. Some of France's leading specialist universities (Les Grandes Ecoles) are represented, including EMP (engineering), the ISIA (computer science & automation), the ESSI (computer science), the ESSTIN (engineering science & technology) and several departments of the university of Nice.

Where to find Sophia Antipolis.
The 'Business Park' of Sophia Antipolis is located in an inland wooded park of some 6000 acres, on the main A8 autoroute to the north west of Nice. Sophia is bordered by some of the nicest provençal villages - Biot - Valbonne - Mougins & Vallouris. The nearest coastal town is Antibes (8kms) Cannes is 15kms away and Nice only 22kms. Two thirds of the Sophia site is landscaped & protected, creating an environment far removed from some of the concrete & glass 'business centres' found elsewhere.
With easy acess to Nice internationl airport (20 min.) it's possible to commute from most European cities. Marseilles Airport (2 hours away) provides regular & direct access to Africa & the Middle East.

For visitor infomation The tourist office at 11 Avenue St Roch 06560 Valbonne are always more than happy to help, they can be contacted on (33) 04 93 12 34 50.

Government Assitance
Part of the Sophia Antipolis success story has been the willingness of government to provide real assistance & incentives to companies wishing to establish themselves in the area.
Government assistance is available at four levels.
At European Level . To support the research and development programmes of common market public and private sector research laborotories; the EC subsidises projects that fit into its major programmes - Health & Environment - Information Sciences - Bio-technology & Energy.
At National Level . The DATAR ( The Regional Development Agency) provides a regional development grant for companies in the industrial, research and service sectors which can create a minimum number of permanent jobs. The ANVAR (National Reseach Promotion Agency) exists to capitalize on the results of scientific and technical research and to promote innovation and technological advance. It facilitates technology transfer to Sophia Antipolis companies by offering innovation aid .
At Regional Level. Lots of help is available at regional level, from business creation loans, to support loans and differing job creation incentives.
At Local Level. Some of the incentives offered here include : Local tax concessions, reduced corporation tax & subsidised land purchase schemes. Contracting agent facilities are also available from public institutions.
Further information about opportunities in Sophia Antipolis can be found by contacting
Jacqueline Mirtelli, Public Relations Manager
SOPHIA ANTIPOLIS S.A.E.M.
Place Joseph Bermond
BP33 06901 SOPHIA ANTIPOLIS CEDEX FRANCE
Tel (33) 04 92 94 59 94 or Fax. (33) 04 93 65 40 69
Welcome to the Virtual Riviera .

Created, composed, and constructed by Virtual Riviera 1996
---