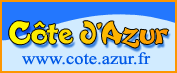 ..Welcome to the Virtual Riviera...
it's as varied as its namesake, The French Riviera or LaCôte d'Azur



t
The Riviera Connection .


ALL Newsgroups READ and POST : http://www.dejanews.com -

......head out past the yachts and the beautiful properties and villas , or stay on the Riviera where Hotel accommodationsuits all budgets.find out about local wines, local artists and the truly wealthy .
...should you think of staying longer, why not look into the Educational and Business opportunities offered by the fastest growing economic region in Europe.......
Should you be planning a visit, then take a look into Riviera Travel Info - Useful information for visitors.
If you should like to meet some of the local community who are not hiding from tax collectors (yes, such residents exist), visit the under construction ...
Or go shopping at Geoffrey's of London - the international grocer in Antibes, is always open to accept your orders. Or buy the T-shirt and other great gifts at Mediazur. Even read about life and work at Heidi's bookshop
Thanks, You've just added another click to this virtual visitor meter.
Created, composed, and constructed by Virtual Riviera 1995/96/97
---
Some browser, PC and monitor combinations have trouble with Virtual Riviera's
background colours.If this proves to be the case with you,
do not lose all hope - choose a default background colour in your browser
(try it with an aqua blue colour) and tell it to override the document.