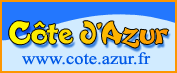 Hotels beaulieu sur mer
Le plus Beau Lieu de la Côte d'Azur
BEAU LIEU POUR LE REVE
-----
A WONDERFUL PLACE FOR DREAMS
F réquentée autrefois par les têtes couronnés, Beaulieu-sur-Mer est resté le symbole de la Côte d'Azur du faste et du rêve:
Plage bordés de palmiers, vegetation luxuriante, mer bleue, lumi&egravere intense, demeures fastueuses dont la Villa Kerylos, fid&egravele reconstitution d'une somptueuse résidence de la Gr&egravece antique et la Fondation Ephrussi de Rothschild du Cap Ferrat.
F ormerly a playground for crowned heads, Beaulieu-sur-Mer has remained the Riviera's symbol of splendour and fantasy:
beaches lined with palm trees, lush semi-tropical vegetation, blue sea, intense light, and lavish homes like the Villa Kerylos, an authentic recreation of a sumptuous ancient Greek home, or the fabulous Ephrussi de Rothschild Foundation on Cap Ferrat.
Mais Beaulieu, c'est aussi:
les ruelles typiques, le marché provençal, la Chapelle romane Santa Maria de Olivio, les promenades pittoresques à la découverte de sites grandioses...
But Beaulieu also means:
picturesque streets, a Provençal market, the Romanesque chapel of Santa Maria de Olivo, and beautiful walks with spectacular views...
Beaulieu-sur-mer Hotel selection :
French riviera Hotels selection
French riviera Hotels search
Created, composed, and constructed by Virtual Riviera 1995
---