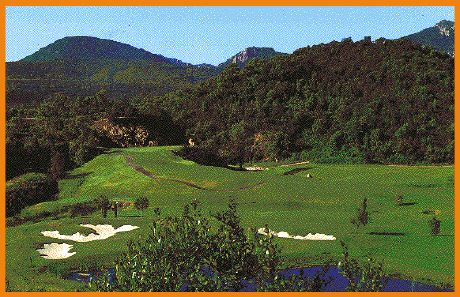 "These things are managed so well in France" - Bret Harte
---
THE COTE D'AZUR : A PARADISE FOR SPORTSMEN

Few places in Europe can offer the possibility of a round of golf in the morning and an afternoon's skiing the same day. Or water-skiing in the morning, a round of golf in the afternoon and sailing or a game of tennis in the evening. All these sporting activities are available for at least six months of the year on the Côte d'Azur.

When the Spring comes and the snow melts the spring flowers and green green fields supply their own temptation to the healthy outdoors when a hundred other sporting possibities open up. There is horseback riding, archery, mountain cycling, fishing in mountain streams, tennis, cross-country motorbike racing and so on. And if you can stand it, there is even swimming in the crystal-clear mountain lakes.

Within 50 miles of Nice - less than a 2-hour drive - there are no less than twenty one major ski resorts, and as many as 34 golf courses. Most of the ski resorts are located in the Maritime Alps, easily reached by the Route des Neiges, the N 202, or by the single track railway, the Train des Pignes which looks rather like a tram and runs three time every day. By way of a bonus, both the road and the railway command spectacular views as well as historical sites in and around such picturesque villages as Entrevaux, Puget-Theniers and Villar-sur-Var.


---

Created, composed, and constructed by Virtual Riviera 1995
---
Camping provence