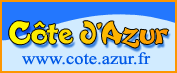 Riviera Golf Club - Mandelieu

Visitors' Book, E-mail & Brochures
Whether you've visited the Riviera Golf Club near Mandelieu in the past, or if this virtual visit is your first experience of it, please enter a few comments in the Visitors Book. They are all read and appreciated.
If your browser is not forms capable, or you wish your message to not be included in the Visitor's Book feel free send an e-mail.
Back to: Riviera Golf Welcome Page , the Course , the Clubhouse .


---

Created, composed, and constructed by Virtual Riviera 1995
---