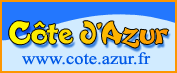 Riviera Writers
-=-=-=-
The Refugees
---
Oscar Wilde (1854-1900)

Born in Dublin to a famous surgeon and a "theatrical" mother, Oscar Fingal O'Flahertie Wills Wilde was educated at Oxford where he won the Newdigate prize for Classical Poetry. Famous for his epigrammatic wit expressed in his life, in his only novel "The Picture of Dorian Gray" (1890) and his plays (such as "Lady Winderemere's Fan" (1892) and his masterpiece "The Importance of Being Earnest" (1895)). On his release after two years in prison for homosexual offences, he came to live in France publishing "The Ballad of Reading Gaol" in 1898. His friend, Frank Harris (of "My Lives and Loves" in four volumes! ), paid for him to live in La Napoule so that Oscar might write again. Unfortunately, Oscar wrote only begging letters and an unpublished poem about the beautiful fisher boys of La Napoule. Denied royalties on his books, he died in poverty in Paris ("I die as I have lived - beyond my means").



Somerset Maugham (1874-1965)

Born in the British Embassy in Paris but brought up in England, he studied philosophy in Heidelberg and medicine in London. After his first novel "Lisa of Lambeth" (1897) he returned to Paris where he wrote novels, short stories, plays and travel books. In 1926 he settled in the South of France living in a vast property on Cap Ferrat (the Villa Mauresque, otherwise known as "Fairyland" ). For some time, Maugham lived in the Villa Lawrence on the Ramparts of Antibes just beside the Picasso museum. He wrote "The Razor's Edge" in Antibes. His short stories, some among the best in English, are still very popular and include the "Three Fat Women of Antibes" which is set in the Hotel du Cap on the exclusive Cap d'Antibes .


James Baldwin (1924-1987)


The son of a black preacher in Harlem, New York, he fled home when 17 years old eventually reaching Paris and writing "Go Tell It on the Mountain" (1957). After "Giovanni's Room" (1956) set in Paris, with the reputation of a "rootless cosmopolitan" Baldwin returned to the USA to contribute more directly to the civil rights struggle. "Another Country" (1962) and "The Fire Next Time" (1963) consolidated his earlier promise. In the late sixties he returned to France to settle in Vence and produce novels, plays, and poetry.


---

Created, composed, and constructed by Virtual Riviera 1995
---