FOR SALE

LUXURY SOUTH OF FRANCE APARTMENT WITH POOL.
A PLACE OF YOUR OWN IN THE SUN!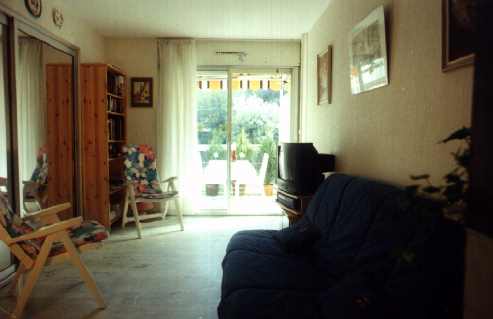 Owner returning to U.K. offers his luxury apartment for sale. This 2-bedroom apartment, with balcony, is situated near the sea midway between the attractive seafront at Antibes and the beautiful beaches of Juan-les-Pins.
A fully fitted kitchen including fan-assisted oven and washing machine. Full air conditioning ensures a cool reception when coming in from the beach. The bathroom has floor and walls of blue-veined marble. The floor throughout the apartment is of solid marble.
Electrically-operated steel shutters to the balcony entrance ensure security. High quality fittings and fixtures. The apartment block has a private pool exclusively for the use of residents. Plentiful free parking nearby and there is also a secure lock-up garage beneath the building at a small extra cost. Helpful concierge across the hall. The apartment block is in a quiet street and yet less than five minutes leisurely walk to the shops. Photos gladly supplied on request.
Price guide for this luxury apartment: formerly 650,000 Ffrs, is now offered for 590,000 FRS for quick sale as for family reasons owner must return to the U.K.
Contact owner direct by phoning: Leonard at (+33) 9293.0298 (Same number for Fax).
Or through the Internet: leonard@riviera.fr
The Virtual Riviera Property Directory
Created, composed, and constructed by vr@i 1996
---