AVAILABLE FOR RENTAL

LUXURY SOUTH OF FRANCE APARTMENT WITH POOL.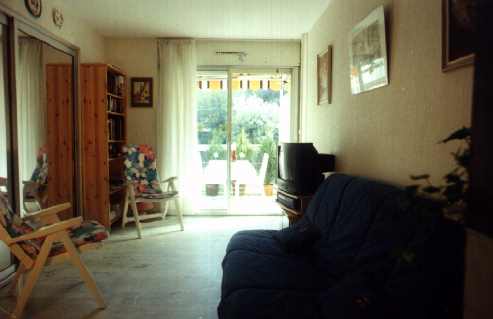 Now you can rent a 2-bedroomed air-conditioned apartment situated only 600 metres from the sea direct from its friendly English owner. Situated midway between the attractive seafront at Antibes and the beautiful beaches of Juan-les-Pins, it has 47 square metres of living space with balcony. A fully fitted kitchen with fan-assisted oven and washing machine are just two of the many amenities included.
The bathroom is equipped with a high-powered shower-fitting ensuring a cool reception when coming in from the beach. The walls and floor are of blue-veined solid marble - as indeed are the floors throughout the entire apartment.
Steel shutters operated at the touch of a switch lead from the lounge to the balcony - which looks out on beautiful landscaped gardens, floodlit at night. There is a helpful concierge across the hall. The apartment has a private pool exclusively for the use of the tenants of the building. There is plentiful free parking on the perimeter. The apartment block is in a quiet street and yet less than five minutes leisurely walk to the shops.
The master bedroom has full-sized mirror doors. There is a television for evening relaxation as well as a sophisticated music centre. Photos and full details will be gladly supplied on request. This is a splendid apartment for a couple, or a couple with two small children, to enjoy a relaxing holiday in the sun.
The price is 4000 francs per week. Minimum hiring during August is two weeks.
Advisable to book early.
Contact owner direct by phoning:
Leonard at (+33) 9293.0298
(Same number for Fax).
Or through the Internet: leonard@riviera.fr
The Virtual Riviera Property Directory
Created, composed, and constructed by vr@i 1995
---