The Eden Casino

Juan les Pins
---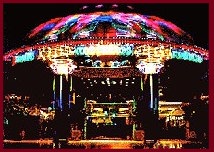 At the heart of the French Riviera, Juan Les Pins is the symbol of good and sweet living.

Located perfectly on the shores of the Mediterrean Sea, the Eden Casino, and its many activites , gives a true image of this famous resort.

Between the well known pinewoods of Juan les Pins and the Lerins Islands, the Eden Casino represents the subtle combination of modernism and tradition which is the trademark of the Groupe Partouche .

Au coeur de la Côte d'Azur, Juan les Pins est le symbol même du bien-être et de la douceur de vivre.

Au bord de la Méditerranée, l'Eden Casino redonne à la cél&egravebre station balnéaire toutes ses lettres de noblesse d'antan.

Bâtiment moderne, entre la fameuse pin&egravede de Juan les Pins et les Iles de Lerins, l'Eden casino associe subtilement modernisme et tradition ce qui est la marque du Groupe Partouche .
---

Created, composed, and constructed by Virtual Riviera 1995
---