The Summer, the Sea,
the Americans

"...rich British and French would rather be dead than seen here in the summer. The place is too hot for them. But for us Americans, the temperatures seem perfect and the bathing delicious. The sun cult is just beginning." - John Dos Passos


---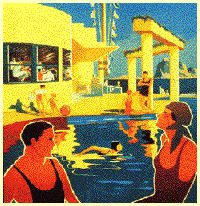 F or all their wealth and privilege the European aristocracy left the Riviera in the summer - it was a little too hot, and anyway their northern European home countries are quite pleasant during the summer months. A worldly Russian, Marie Bashkirtseff, described the Riviera in summer as a desolate place: "It's deserted. I'm ready to cry, I'm suffering so."
(Life's hard for some people, isn't it.)
The fact that going for a paddle or a dip in the sea was not yet a fashion - unless it was a medical prescription, can only have made the heat of July and August even harder work.
After World War I, summer, sea bathing tourism came slowly to the Côte d'Azur. in the main the visitors were American soldiers. But Antibes was about to become the first hotspot.
Gertrude Stein, Rudolph Valentino, Picasso, the Fitzgeralds, and Rex Ingram were among the first tourists coming to Antibes in the early 1920's. In one famous incident the American millionaires, Gerald and Sara Murphy, persuaded the Hotel du Cap on the Cap d'Antibes to stay open for their partying entourage in the summer of 1926 - something it had never done before.
This shift toward Americans and summer was all the more apparent because of the absence of Russian visitors as a result of the October Revolution and the end of the Russian monarchy.
One more major change established the Côte d'Azur as a summer resort. In 1936, the Front Populaire, France's socialist government of the time, granted French workers the right to paid vacations in July and August. For the first time, a holiday on the Riviera was possible for the masses. And they still come en masse to this day. The road, railways and airport are best avoided at the height of summer.

Created, composed, and constructed by Virtual Riviera 1995
---