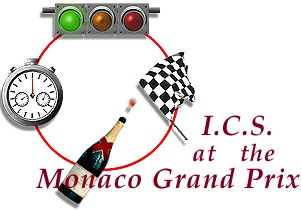 Since 1979 International Corporate Services, based in Le Cannet have offered corporate & individual clients superb packages for the Monaco Grand Prix weekend.
The services offered are :

Yacht Charters.
Corporate hospitality aboard a Yacht available on a 'day only' basis.
An excellent opportunity to make use of a yacht for one day of the Grand Prix weekend for entertaining clients or friends.
The Rental of apartments overlooking the circuit for viewing & hospitality.
The rental of staffed villas within easy reach of Monaco.
Airport welcomes & limousine transfers.
We supply our own bi-lingual staff for all your catering & villa requirements.
Sightseeing & golf on the Grand Prix 'rest day'.
Helicopter charters to Monaco from selected villas.
For furthur information please call Michael Logan at I.C.S. in France on
(33) 4 93 69 23 84 or Fax (33) 4 93 69 18 25



or mail
michaellogan@riviera.fr
I.C.S. / Michael Logan is a fully registered business in France